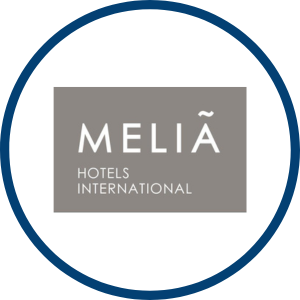 Melia Hotels International
---
Meliá Hotels International is the only one among the twenty largest international hotel groups with a vacation origin and with the ideal size to combine exceptional hospitality with efficient management close to its stakeholders. All this, together with our Spanish warmth and passion, makes us unique and different. "Leisure at heart, business in mind" Our corporate slogan expresses the perfect harmony between our hearts and minds, between the exceptional hospitality we offer and our excellence and rigor in management.
The four fundamental attributes that make us stand out are:
Warmth and friendliness - Our treatment is warm and personal. We mix enthusiasm with professionalism, and balance naturalness with formality. Our Mediterranean hospitality and being focused on our guests distinguish us.
Caring and encouraging - Our size and proximity allow us to maintain close relationships with our partners, employees and interest groups: they are part of our family. In the same way, we dedicate constant attention and care to the management of our assets and as a responsible company, we are actively committed to society and the environment.
Little extras - Thanks to our hotel heritage, we are able to compete with larger companies by offering personal touches and extras in all our relationships with all stakeholders.
Innovation - We are always improving. We continually reinvent ourselves and find new ways to delight our customers.
These fundamental attributes are brought to life through our five corporate values, which are manifested in the behaviors we promote among our employees:

- Proximity , lived through a warm behavior

- Excellence and consistency , with which we ensure that we live up to our professional behavior
- The vocation of service , which is born from our hospitable essence
- And innovation , which guides us in behavior and creative work
---