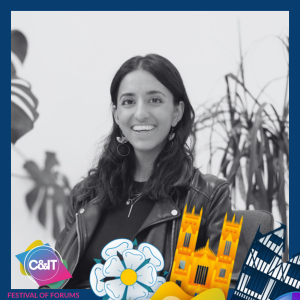 Meera Somji
Co-Founder, Clusivity
---
Meera Somji is a data and analytics enthusiast with an academic training in gender and race inequalities. She is the co-founder of diversity and inclusion technology company, Clusivity.
In her career as a consultant with Plural Strategy Group, Meera spent over five years advising leading exhibitions organisers. Between 2019 and 2021, Meera led the roll-out of Smartxpo's data and analytics platform across Emerald Exhibitions, Diversified Communications, and Informa Markets. In 2022 Meera co-founded the specialist DEI platform Clusivity. Meera has a Master's degree in Gender Studies from LSE and has worked as a researcher into business, human rights and gender for the UN.
Clusivity is helping organisations to take a data-driven approach to DEI. With a mixture of technology, training and consulting support, Clusivity takes clients on a three-step journey to build a more diverse, equitable and inclusive organisation: we Diagnose your key challenges, Equip your team with the right skills and solutions, and measure Impact at each step.