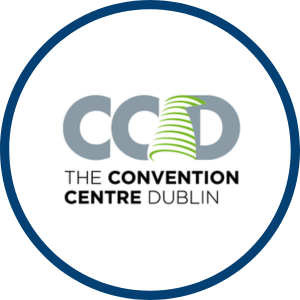 The Convention Centre Dublin
---
The Convention Centre Dublin (The CCD) is Ireland's first purpose-built international conference centre and offers the perfect venue for events, located 15 minutes from Dublin Airport in the heart of Dublin's docklands. Its convenient city centre location and excellent transport links make The CCD easily accessible whether you are travelling from within Ireland, the UK, the US, Europe, or indeed anywhere in the world. The venue is close to Dublin's top cultural and tourist attractions and 20,000 competitively priced hotel rooms are within easy reach. Since opening in September 2010, we have hosted over 2,000 events from a variety of clients and industries, including medical, tech, educational and private banquets, maintaining a customer satisfaction rate of 98% and have won 60 industry awards to date.
The CCD has designed the perfect space for human connection and face-to-face events. The venue's 22 multi-functional, flexible rooms are suitable for meetings, conferences and exhibitions up to 8,000 delegates.
It boasts a 1,995 seat auditorium, 4,500 square meters of exhibition space, banqueting for up to 3,000 guests and six light-filled foyer spaces offering panoramic views of the city, the bay and surrounding mountains. These spaces flood the venue with natural light and offer the perfect setting for registration and hospitality. Our world-class Hospitality team's top priority is providing a five-star catered experience to our delegates in a sustainable way by using a farm-to-fork catering model.
---